24 Hour Emergency Home & Commercial Electrical Contractor
Our 24 hour emergency home & commercial electrical contractor takes pride in providing high quality and affordable electrical work. We make sure your electrical systems are inspected by city officials and are working at optimal levels.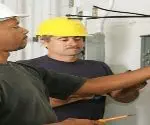 Correcting electrical problems on a 24 hour emergency home or commercial basis in St Louis City, St Louis County and St Charles and surrounding municipalities is our specialty. Whether its a faulty switch, dangling wires, burnt panel box or simply electrical trouble shooting. Our team of master electricians will perform the work right the first time.
Building Electrical wiring codes varies by country. However, in the United States the National Electrical Code is the guideline in which all electricians must adhere to.
Wiring safety codes are paramount in protecting consumers against fires and mishaps caused by faulty electrical wiring.
Trained electricians in most states must be licensed,bonded and insured to perform electric power transmissions for any structure.
In some communities,the electrical wiring is old and outdated majorly because of the age of the building. Knob and tube wiring was the norm at the turn of the century but the NEC codes today outlawed this type of wiring because of the fire hazards that was caused by the old knob and tubes.
Master electricians in St Louis and other cities are trained to comply to the NEC codes and consequently when work is performed whether it is upgrading a panel box or installing a circuit,work is done according to strict codes.
It is vitally important that homeowners and commerical building owners understand that any electrician performing electrical work should be licensed, bonded and insured because of the potential hazards involved when a structure is being wired or rewired.
If you have someone who is not a licensed electrician, the work performed could cause electrical issues such as electrical shock,destruction of panel boxes, meter damage, wires and cables to be incorrectly installed and electrical short ciruits. The most critical being circuit voltage and neutral and ground wires not being installed properly.
Over time, homeowners have experienced electrical short circuits, lights that don't work, improper non grounded outlets. Some property owners have experienced damaged panel boxes caused water or fire.
So if you are a property owner who has electrical problems in any of your electrical power distribution areas of your home or business, Power House electric in St Louis does each and every job acording to code and does it right the first time.
Power House Electric provides 24 hour emergency electrical service in St Louis,St Charles and other surrounding communities.